Archive 25 Feb 2006
MARS Recruiting; CAMNETS; A MUST WATCH !!!; Rumsfeld Cartoon; "24 STAR" Letter; Former Surgeon General speaks out Amen to this!; A Minute and 45 Seconds; NAVY DOCTOR RECEIVES BRONZE STAR; THE TALE OF THE DONKEY; Bill and Hillary; Marine Commandant; The Ghost of General Patton; Inappropriate T-Shirts; Steelers fans; If Iwo Jima Happened Today; The Military; Before you go; The year 1905, A Reminder; Rocky Mountain News - fallen Marine; 25 SIGNS YOU HAVE GROWN UP; FOR ALL OF YOU AVIATORS !!; Red Skelton; Landon Rules Pool; Ten Thoughts to Ponder for 2006; The fundamental difference between left and right; The Terrorists Have Won The Toss; Because of them
Any chance you could forward this to the MARS mailing list? We're looking for a few good men and women to repopulate Navy/Marine Corps MARS. And you're certainly more than welcome to post it on the website.
(Readers -Please let me know if viewing power point presentations is a problem-DLB)
CAMNETS
Again wish to invite you MCMARS guys to check in on Fridays from 0201z to about 0330z on the Chief Army MARS nets. Freq 6913 lsb dial. We average about 200 check-ins per net from Army/NAVY/AFMARS members so your also welcome. We dont even know what kind of prefix
you use for your call signs. such as ABM (ARMY) AFA (Airforce) and NNN (navy). Check-ins come from as far east as Virgin Islands, to as far west as Guam and the trust territories.
Joe/ABM6JF
(only takes 2 mins to checkin, so please do so and thanks in advance)
**********************************************************
* Ham KH6JF AARS/MARS ABM6JF QCWA WW2 VET WD RADIO SYSTEM*
* Army MARS PRECEDED by AARS (Army Amateur Radio System) *
* Hi State ARMY MARS COORDINATOR *
**********************************************************
A MUST WATCH !!!_ CLICK HERE Back to top
"24 STAR" Letter -- AS DELIVERED Click Here Back to top
Former Surgeon General speaks out
On Thu, 9 Feb 2006 12:47:11 -0800, "VADM Harold Koenig USN ret" wrote:
The problem with SecDef's testimony and what the Department is requesting is that virtually all of their "re-balancing" effort is being done out of the wallets of a single beneficiary group - retirees and their families under age 65.
The trap DOD is in is that retirees <65 are the only group that they can do this to. The 24-star letter signers won't let them do it to active duty families because it will hurt recruiting and retention. Congress won't allow DOD to hit the over-65's with a premium beyond part B for TFL because it was Congresses way of fixing the "broken promise." So Rumsfeld is stuck, he has no where to turn but to those retired and their families who are <65.
Another interesting revelation in his testimony, and I do not believe he wanted it to be quite this transparent, is where he talks about employers telling people to go use their Tricare benefit. He acts as if this is wrong. What is wrong with people using the benefit they were promised, earned and are entitled to?
HMK Harold M. Koenig, MD Vice Admiral, Medical Corps U.S. Navy, Retired
-----Original Message----- From: Brig Gen R. Clements USAF ret [mailto:p38bob@deepwell.com]
Sent: Thursday, February 09, 2006 3:10 PM
To: Harold Koenig
Subject: Re: SecDef testimony Feb 7th - Section on Defense Health program and HSAs Copyright 2006 Congressional Quarterly, Inc. All Rights Reserved. Federal Document Clearing House Congressional Testimony 1.
February 7, 2006 Tuesday SECTION: CAPITOL HILL HEARING TESTIMONY LENGTH: 8361 words COMMITTEE: SENATE ARMED SERVICES TESTIMONY-BY: DONALD H. RUMSFELD, SECRETARY DEPARTMENT OF DEFENSE Statement of Donald H. Rumsfeld Secretary, Department of Defense before the Committee on Senate Armed Services February 7, 2006
Start of testimony by Secretary Rumsfeld.
The pattern of imposing new programs and costs on the military -- without considering the unintended consequences -- is most evident in the area of health care. And, we all are on notice of this growing problem that threatens the Department's ability to fund its other priorities, and therefore future U.S. military capabilities.
As with the changes underway in the Army, there has been a good deal of confusion and misstatement about what the Department is proposing in regard to health care. Let me be clear: the United States military provides -- and will continue to provide -- the best possible care for those who have served our country. But the reality is that the way the current health care system is funded is not sustainable. Mainly as a result of benefits added by Congress, often without hearings, the Department's health care costs have almost doubled over the past five years -- from $19 billion in 2001 to over $37 billion in Fiscal Year 2006 [ $39 billion in Fiscal Year 2007]. This year's proposed shipbuilding budget, by comparison, is $11 billion.
Using a conservative projection, these health care costs will likely reach $64 billion in Fiscal year 2015, an estimated 12 percent of the total Department budget projected for that year. By comparison, health costs were 4.5 percent of the Department's budget back in 1990. Because the health coverage offered by the Department is so comprehensive, many private employers are dropping their employer coverage for military retirees and directing their employees to rely on TRICARE instead. In fact, several state governments have passed rules that encourage their employees who are military retirees to use TRICARE and not their state health care systems. In effect, the military is increasingly subsidizing the health care costs of private corporations, organizations, and state and local governments. This is a classic example of good intentions leading to unintended, unwelcome, and expensive consequences. Today nearly 60 percent of the Department's inpatient and outpatient expenditures are for retirees and their families, and this percentage is projected to keep rising.
To place the health benefit program on a sound fiscal basis for the long term, the Department is proposing to rebalance the share of costs between retired individuals and the government to approach the levels TRICARE had when the program was initiated by Congress in 1995. Further, we propose that cost shares be indexed so they will be adjusted annually for inflation. To provide context, in 1995, beneficiaries paid 27 percent of their total health care costs. Today, because there has been no change in TRICARE annual premiums for 11 years, beneficiaries currently pay not 27 percent, but just 12 percent of costs. The proposed plan would ask retirees to pay somewhat more in premiums and for certain co-payments. However, even after adjustments, TRICARE would still be more generous than the best private employer plans. For a single retired junior enlisted service member, the average price increase for TRICARE Prime enrollment fees would equate to 26 cents per day by Fiscal Year 2008, according to one study. For a retired officer's family the change would amount to $2.58 per day.
We also want to explore for new, innovative benefit alternatives such as health savings accounts, which are currently available to other government employees. A few points should be underscored. Active duty troops and their families -- people who rely on military hospitals as their sole provider of health care -- will not be affected, except for minimal changes to pharmacy co- payments for family members. Those retirees over age 65 in TRICARE for life are not affected, except for minimal changes to pharmacy co-payments. And no one will be forced to leave TRICARE.
The plan being proposed, though undeniably necessary and offered with the best interests of the men and women in uniform in mind, has led to predictable concern. But it is worth repeating: the way the current system is funded is simply not sustainable. Indeed, if current trends continue, health funding pressures will soon cut into budgets for training, equipment, and a range of other investments vital to winning the War on Terror and maintaining the quality of life for our troops and their families.
The Chairman, and the Joint Chiefs of Staff and I, unanimously urge the Congress to join in taking the necessary steps to ensure that we sustain a superior health benefit for the Armed Forces, their families, and all retirees, and to ensure needed future U.S. military capability and a strong national defense.
End of Secretary Rumsfeld's testimony
Comment:
Your analysis of the Secretary of Defense's statement (testimony) before the Senate Armed Force Committee is right on the money, Admiral Koenig. Thank you for standing up for our people.
My personal Signature chk6 bob "If It Weren't For The United States Military"
"There Would Be NO United States of America"
contributed via Rush Williams from Del Pfranger
Amen to this! 98 years later.
What a visionary, that Teddy R.
Theodore Roosevelt's ideas on Immigrants and being an AMERICAN in 1907.
"In the first place, we should insist that if the immigrant who comes here in good faith becomes an American and assimilates himself to us, he shall be treated on an exact equality with everyone else, for it is an outrage to discriminate against any such man because of creed, or birthplace, or origin.
But this is predicated upon the person's becoming in every facet an American, and nothing but an American...There can be no divided allegiance here. Any man who says he is an American, but something else also, isn't an American at all. We have room for but one flag, the American flag... We have room for but one language here, and that is the English language... and we have room for but one sole loyalty and that is a loyalty to the American people."
Theodore Roosevelt 1907
contributed by Wayne Justis
A Minute and 45 Seconds
This tax season approaching, at least some of our monies go towards improvements to old weapons that our Servicemen and women in harms way lives depend on, looks like the new model is worth our tax dollars.
Yee-hah! CLICK HERE!!
contributed via Rush Williams
NAVY DOCTOR RECEIVES BRONZE STAR
submitted by Jim Mackin
Amid a heavy firefight between Marines and insurgents in Fallujah, Iraq, Dr. Richard Jadick worked to save the lives of seven badly injured Marines caught in an ambush. The Navy doctor serving with the Marine Corps unit fought his own fear during the firefight and at times couldnít even control his legs. Later, while crammed inside a truck with the injured Marines, a rocket-propelled grenade slammed atop the roof of the vehicle. It didnít go off. I canít even describe scared, said Jadick, now a urology resident at the Medical College of Georgia and Augusta Department of Veterans Affairs Medical Centers, recalling that day. While the doctor felt fear, others saw tremendous courage and bravery. On Monday, for his courageous forays into the bloody firefight in Fallujah, where he is credited with saving Marines in the midst of battle, Jadick will be awarded the Bronze Star with a combat V for valor at Camp Lejeune, N.C.I had never seen a doctor display the kind of courage and bravery that Rich did during Fallujah, said Lt. Col. Mike Winn, the executive officer for 1st Battalion, 8th Marine Regiment, who nominated Jadick for the award. You just donít see it out of a battalion doctor. He personally saved the lives of 30 Marines. There have been 31 such medals awarded to Navy medical personnel attached to Marine units since September 2003, according to the Marine Corps public affairs office in Quantico, Va. When Jadick arrived in June 2004 in Iraq with the 1st Battalion, it wasnít his first trip there. The doctor, who had served six years as an officer in the Marines before going to medical school on a Navy scholarship and becoming a Navy doctor, was with another Marine unit in March 2003 in northern Iraq. In June 2004, Jadick had volunteered to serve with the 1st Battalion, which had lost its two doctors. It was a godsend to have him, Winn said. Heís still at heart, ! heís stlll a Marine. He still acts like a Marine and he still thinks like a Marine. In the 14th hour of the battle of Fallujah, a call came in on a Navy SEAL with a sucking chest wound. Jadick marched in on foot with his corpsmen to get him and then called for an armored ambulance. Before they could even get out of the city with their first casualty, another call came in about seven Marines injured in an ambush. When they arrived, 30 Marines were across the street, trading fire with insurgents. There were seven guys just kind of lying there in the street, Jadick said. One died and the others were badly wounded as the doctor went to work. Rich was working on these guys literally right on the street while heís being shot at from all directions, Win said. Jadick and his team loaded seven wounded in a vehicle built for four and took off for the surgery center in Camp Fallujah, traveling through the teeth of the heavy fighting.They were just getting slammed by RPG fire in and out, Winn said. None of the grenades that landed close to the vehicle exploded. Sometimes, itís better to be lucky than to be good, Jadick joked. Later, Jadick set up a forward aid station in a government complex inside the city. Although the complex was walled, there were gaps in the barriers and insurgents could climb into taller buildings surrounding it. The enemy had direct observation and direct fire into the complex. So anytime we were out of our buildings, we had to run, Winn said. When there was no room inside, Jadick triaged patients out in the open. Once, he had to stop his duties to point out an insurgent sniper to Marines. Jadick estimates he and his six corpsmen treated about 200 U.S. casualties, along with Iraqi citizens and insurgents. If you can get to a patient before they bleed out, you can save their life, Jadick said. Thatís where we placed ourselves, trying to get as close as we could to the injuries so we could change things.
THE TALE OF THE DONKEY
submitted by Jim Mackin
One day a farmer's donkey fell down into a well. The animal cried piteously for hours as the farmer tried to figure out what to do.
Finally, he decided the animal was old, and the well needed to be covered up anyway; it just wasn't worth it to retrieve the donkey.
He invited all his neighbors to come over and help him. They all grabbed a shovel and began to shovel dirt into the well. At first, the donkey realized what was happening and cried horribly. Then, to everyone's amazement he quieted down. A few shovel loads later, the farmer finally looked down the well. He was astonished at what he saw. With each shove l of dirt that hit his back, the donkey was doing something amazing. He would shake it off and take a step up.
As the farmer's neighbors continued to shovel dirt on top of the animal, he would shake it off and take a step up. Pretty soon, everyone was amazed as the donkey stepped up over the edge of the well and happily trotted off!
Life is going to shovel dirt on you, all kinds of dirt. The trick to getting out of the well is to shake it off and take a step up. Each of our troubles is a steppingstone. We can get out of the deepest wells just by not stopping, never giving up! Shake it off and take a step up.
By the way:
The donkey later came back and bit the farmer who had tried to bury him. The gash from the bite got infected, and the farmer eventually died in agony from septic shock.
MORAL FROM TODAY'S LESSON: When you do something wrong and try to cover your ass, it always comes back to bite you. Back to top
Bill Clinton registers for the draft on September 08, 1964, accepting all contractual conditions of registering for the draft. Selective Service Number 326 46 228.
Bill Clinton classified 2-S on November 17, 1964.
Bill Clinton reclassified 1-A on March 20, 1968.
Bill Clinton ordered to report for induction on July 28, 1969.
Bill Clinton refuses to report and is not inducted into the military.
Bill Clinton reclassified 1-D after enlisting in the United States Army Reserves on August 07, 1969, under authority of Col.E. Holmes.
Clinton signs enlistment papers and takes oath of enlistment.
Bill Clinton fails to report to his duty station at the University of Arkansas ROTC, September 1969.
Bill Clinton reclassified 1-A on October 30, 1969, as enlistment with Army Reserves is revoked by Colonel E. Holmes and Clinton now AWOL and subject to arrest under Public Law 90-40 (2)(a) registrant who has failed to report...remain liable for induction.' Bill Clinton's birth date lottery number is 311, drawn December 1, 1969, but anyone who has already been ordered to report for induction is ineligible!
Bill Clinton runs for Congress (1974), while a fugitive from justice under Public Law 90-40.
Bill Clinton runs for Arkansas Attorney General (1976), while a fugitive from justice.
Bill Clinton receives pardon on January 21, 1977, from President Carter.
Bill Clinton FIRST PARDONED FEDERAL FELON ever to serve as President of the United States.
The foregoing facts come from Freedom of Information requests, public laws, and various books that have been published, and have not been refuted by Clinton.
After the 1993 World Trade Center bombing, President Clinton promised that those responsible would be hunted down and punished.
After the 1995 bombing in Saudi Arabia, which killed five U.S. military personnel; Clinton promised that those responsible would be hunted down and punished.
After the 1996 Khobar Towers bombing in Saudi Arabia, which killed 19 and injured 200 U.S. military personnel; Clinton promised that those responsible would be hunted down and punished.
After the 1998 bombing of U.S. embassies in Africa, which killed 224 and injured 5,000; Clinton promised that those responsible would be hunted down and punished.
After the 2000 bombing of the USS Cole, which killed 17 and injured 39 U.S. sailors; Clinton promised that those responsible would be hunted down and punished.
Maybe if Clinton had kept those promises, an estimated 3,000 people in New York and Washington, DC that are now dead would be alive today.
A question was raised on a Philly radio call-in show. Without casting stones, it is a legitimate question.
There are two men, both extremely wealthy. One develops relatively cheap software and gives billions of dollars to charity. The other sponsors terrorism. That being the case, why was it that the Clinton Administration spent more money chasing down Bill Gates over the eight years in office, than Osama bin Laden?
It is a strange turn of events. Hillary gets $8 Million for her forthcoming memoir. Bill gets about $12 Million for his memoir yet to be written.
This from two people who spent 8 years being unable to "recall"
anything about past events while under oath.
Sincerely, Cdr. Hamilton McWhorter USN (ret)
P.S. Please forward this to as many people as you can. We don't want this woman to even THINK of running for President.
Submitted by Stan Siems
Marine Commandant Prohibits Use of the Term "Squid"
In a message to all Marines worldwide, the Commandant recently informed his Marines that they are to cease and desist from using the age old term "Squid" in referring to members of the U.S. Navy.
Use of this word to refer to a member of the Navy is totally inappropriate," the Commandant said. "According to Webster's Dictionary," the Commandant's message continues, "Squid is defined as 'a higher form of marine life'. Obviously, we can not use it to refer to Sailors.
submitted by Jim Mackin
Click here for "The Ghost of General Patton"
submitted by Jim Mackin Back to top
The following directive was issued by the commanding officer of a naval installation somewhere in the Middle East, and it was obviously directed at the Marines, well maybe.....
To: All Commands
Subject: Inappropriate T-Shirts
Ref: ComMidEastFor Inst 16134//24 K
All commanders promulgate upon receipt.

The following T-shirts are no longer to be worn on or off base by any military or civilian personnel serving in the Middle East:

"Eat Pork Or Die" [both English and Arabic versions]

"Shrine Busters" [Various. Show burning minarets or bomb/artillery

shells impacting Islamic shrines. Some with unit logos.]

"Napalm, Sticks Like Crazy" [Both English and Arabic versions]

"Goat - it isn't just for breakfast any more". [Both English and Arabic versions]

"The road to Paradise begins with me." [Mostly Arabic versions but some in English. Some show sniper scope cross-hairs]

"Guns don't kill people. I kill people". [Both Arabic and English versions]

"Pork. The other white meat". [Arabic version]

"Infidel" [English, Arabic and other coalition force languages.]

The above tee shirts will be removed from base exchanges upon receipt of this directive.

The following sign is to be removed upon receipt of this message:

"Islamic Religious Services Will Be Held at the Firing Range At 0800 Daily."

All commands are instructed to implement sensitivity training upon receipt.
Submitted by Barry Weathersby
For all you Steelers fans out there courtesy of Terry Brooks
Go Steelers Here we Go Steelers Rock
contributed by Joe Drobniak
The Military contributed by Wayne Justis
If you read this, you WILL forward it on. You won't be able to stop yourself.
The average age of the military man is 19 years. He is a short haired, tight-muscled kid who, under normal circumstances is considered by society as half man, half boy. Not yet dry behind the ears, not old enough to buy a beer, but old enough to die for his country. He never really cared much for work and he would rather wax his own car than wash his father's; but he has never collected unemployment either.
he's a recent High School graduate;

he was probably an average student,
pursued some form of sport activities, drives a ten year old jalopy,
and has a steady girlfriend
that either broke up with him when he left,
or swears to be waiting when he returns from half a world away.

He listens to rock and roll or hip-hop or rap or jazz or swing and 155mm howitzer.

He is 10 or 15 pounds lighter now
than when he was at home
because he is working or fighting
from before dawn to well after dusk.

He has trouble spelling,
thus letter writing is a pain for him,

but he can field strip a rifle in 30 seconds
and reassemble it in less time in the dark.
He can recite to you the nomenclature
of a machine gun or grenade launcher
and use either one effectively if he must.

He digs foxholes and latrines
and can apply first aid like a professional.
He can march until he is told to stop
or stop until he is told to march.

He obeys orders instantly and without hesitation,
but he is not without spirit or individual dignity. He is self-sufficient.

He has two sets of fatigues:
he washes one and wears the other.
He keeps his canteens full and his feet dry.

He sometimes forgets to brush his teeth,
but never to clean his rifle.
He can cook his own meals,
mend his own clothes, and fix his own hurts.
If you're thirsty, he'll share his water with you; if you are hungry, his food.
He'll even split his ammunition with you
in the midst of battle when you run low.
He has learned to use his hands like weapons
and weapons like they were his hands.
He can save your life - or take it,
because that is his job.

He will often do twice the work of a civilian ,
draw half the pay
and still find ironic humor in it all.

He has seen more suffering
and death then he should have
in his short lifetime.

He has stood atop mountains of dead bodies,
and helped to create them.
He has wept in public and in private,
for friends who have fallen in combat
and is unashamed.

He feels every note of the National Anthem vibrate through his body
while at rigid attention,
while tempering the burning desire to

'square-away' those around him
who haven't bothered to stand,
remove their hat, or even stop talking.

In an odd twist, day in and day out,
far from home,
he defends their right to be disrespectful.
Just as did his Father, Grandfather,
and Great-grandfather,
he is paying the price for our freedom. Beardless or not, he is not a boy.

he is the American Fighting Man
that has kept this country free
for over 200 years.

He has asked nothing in return,
except our friendship and understanding.
Remember him, always,
for he has earned our respect
and admiration with his blood.

And now we even have women over there in danger,
doing their part in this tradition

Of going to War
when our nation calls us to do so.
As you go to bed tonight,
remember this shot..
A short lull, a little shade
and a picture of loved ones in their helmets

Prayer wheel for our military... please don't break it. Please send this on after a short prayer.

Prayer Wheel

"Lord, hold our troops in your loving hands. Protect them as they protect us.
Bless them and their families
for the selfless acts they perform for us
in our time of need. Amen."
Prayer :
When you receive this,
please stop for a moment and say a prayer
for our ground troops in Afghanistan, sailors on ships, and airmen in the air,
and for those in Iraq.

There is nothing attached....
This can be very powerful.......
Of all the gifts you could give a US Soldier, Sailor, Coastguardsman, Marine
or Airman, prayer is the very best one.

I can't break this one, sorry
This is a ribbon for soldiers fighting in Iraq. Pass it on to everyone and pray.
(Read this and then click the link below)
The elderly parking lot attendant wasn't in a good mood!
Neither was Sam Bierstock. It was around 1 a.m., and Bierstock, a Delray Beach, Fla. , eye doctor, business consultant, corporate speaker and musician, was bone tired after appearing at an event.
He pulled up in his car, and the parking attendant began to speak. "I took two bullets for this country and look what I'm doing," he said bitterly.
At first, Bierstock didn't know what to say to the World War II veteran. But he rolled down his window and told the man, "Really, from the bottom of my heart, I want to thank you."
Then the old soldier began to cry.
"That really got to me," Bierstock says.
Cut to today.
Bierstock, 58, and John Melnick, 54, of Pompano Beach - a member of Bierstock's band, Dr. Sam and the Managed Care Band - have written a song inspired by that old soldier in the airport parking lot. The mournful "Before You Go" does more than salute those who fought in WWII. It encourages people to go out of their way to thank the aging warriors before they die.
"If we had lost that particular war, our whole way of life would have been shot," says Bierstock, who plays harmonica. "The WW II soldiers are now dying at the rate of about 2,000 every day. I thought we needed to thank them."
The song is striking a chord. Within four days of Bierstock placing it on the Web
, the song and accompanying photo essay have bounced around nine countries, producing tears and heartfelt thanks from veterans, their sons and daughters and grandchildren.
"It made me cry," wrote one veteran's son. Another sent an e-mail saying that only after his father consumed several glasses of wine would he discuss "the unspeakable horrors" he and other soldiers had witnessed in places such as Anzio, Iwo Jima, Bataan and Omaha Beach. "I can never thank them enough," the son wrote. "Thank you for thinking about them."
Bierstock and Melnick thought about shipping it off to a professional singer, maybe a Lee Greenwood type, but because time was running out for so many veterans, they decided it was best to release it quickly, for free, on the Web. They've sent the song to Sen. John McCain and others in Washington. Already they have been invited to perform it in Houston for a Veterans Day tribute - this after just a few days on the Web. They hope every veteran in America gets a chance to hear it.
GOD BLESS EVERY veteran...
and THANK you to those veterans who may receive this !
CLICK THE LINK BELOW TO HEAR THE SONG AND SEE THE PICTURES:
CONTRIBUTED BY Elbert Jackson
THE YEAR 1905
This will boggle your mind, I know it did mine!
The year is 1905.
One hundred years ago.
What a difference a century makes!
Here are some of the U.S. statistics for the Year 1905 :
The average life expectancy in the U.S. was 47 years.

Only 14 percent of the homes in the U.S. had a bathtub.

Only 8 percent of the homes had a telephone.

A three-minute call from Denver to New York City cost eleven dollars.

There were only 8,000 cars in the U.S., and only 144 miles of paved roads.

The maximum speed limit in most cities was 10 mph.

Alabama, Mississippi, Iowa, and Tennessee were each more heavily populated than California.

With a mere 1.4 million people, California was only the 21st most populous state in the Union.

The tallest structure in the world was the Eiffel Tower!

The average wage in the U.S. was 22 cents per hour.

The average U.S. worker made between $200 and $400 per year ..

A competent accountant could expect to earn $2000 per year,

a dentist $2,500 per year,

a veterinarian between $1,500 and $4,000 per year, and

a mechanical engineer about $5,000 per year.

More than 95 percent of all births in the U.S. took place at home ..

Ninety percent of all U.S. doctors had no college education.

Instead, they attended so-called medical schools, many of which were condemned in the press and by the government as "substandard."

Sugar cost four cents a pound.

Eggs were fourteen cents a dozen.

Coffee was fifteen cents a pound.

Most women only washed their hair once a month, and used borax or egg yolks for shampoo.

Canada passed a law that prohibited poor people from entering into their country for any reason.

Five leading causes of death in the U.S. were:
1. Pneumonia and influenza

2. Tuberculosis

3. Diarrhea

4. Heart disease

5. Stroke
The American flag had 45 stars.

Arizona, Oklahoma, New Mexico, Hawaii, and Alaska hadn't been admitted

to the Union yet.

The population of Las Vegas, Nevada, was only 30!!!

Crossword puzzles, canned beer, and ice tea hadn't been invented yet.

There was no Mother's Day or Father's Day.

Two out of every 10 U.S. adults couldn't read or write.

Only 6 percent of all Americans had graduated from high school.

Marijuana, heroin, and morphine were all available over the counter at the local corner drugstores.

Back then pharmacist said, "Heroin clears the complexion, gives buoyancy to the mind, regulates the stomach and bowels, and is, in fact, a perfect guardian of health." (Shocking!)

Eighteen percent of households in the U.S. had at least one full-time servant or domestic help.

There were about 230 reported murders in the entire U.S.

And I forwarded this from someone else without typing it myself, and sent it to you in a matter of seconds!
Try to imagine what it may be like in another 100 years.
It staggers the mind.
Sent to us by Joseph G. Brown
This is an interesting story in the Rocky Mountain News about a fallen Marine.
Use the bar under each picture to advance to the next photo or just click on the photo.
CONTRIBUTED BY Doug Thomas
1. Your houseplants are alive, and you can't smoke any of them.
2. Having sex in a twin bed is out of the question.
3. You keep more food than beer in the fridge.
4. 6:00 AM is when you get up, not when you go to bed.
5. You hear your favorite song in an elevator.
6. You watch the Weather Channel.
7. Your friends marry and divorce instead of "hook up" and "break up."
8. You go from 130 days of vacation time to 14.
9. Jeans and a sweater no longer qualify as "dressed up."
10. You're the one calling the police because those %&@# kids next door won't turn down the stereo.
11. Older relatives feel comfortable telling sex jokes around you.
12. You don't know what time Taco Bell closes anymore.
13. Your car insurance goes down and your car payments go up.
14. You feed your dog Science Diet instead of McDonald's leftovers.
15. Sleeping on the couch makes your back hurt.
16. You take naps.
17. Dinner and a movie is the whole date instead of the beginning of one.
18. Eating a basket of chicken wings at 3 AM would severely upset, rather than settle, your stomach.
19. Y! ou go to the drug store for ibuprofen and antacid, not condoms and pregnancy tests.
20. A $4.00 bottle of wine is no longer "pretty good stuff."
21. You actually eat breakfast food at breakfast time.
22. "I just can't drink the way I used to" replaces "I'm never going to drink that much again."
23. 90% of the time you spend in front of a computer is for real work.
24. You drink at home to save money before going to a bar.
25. When you find out your friend is pregnant you congratulate them instead of asking "Oh S*$# what the hell happened?"
Bonus:
26: You read this entire list looking desperately for one sign that doesn't apply to you and can't find one to save your sorry old butt.
contributed via Rush Williams
FOR ALL OF YOU AVIATORS !! Radio Controlled!!! Click Here!

contributed via Rush Williams
FOR THE FEW WHO DON'T KNOW:
was a movie star and comedian on television back in the 1950's. He created a number of characters and his show was watched by millions. He was unabashedly patriotic. He did this skit on his show one evening, back when shows were done live not pre-recorded. Click to enjoy.
contributed via Rush Williams
Landon Rules Pool
Watch and listen
contributed via Rush Williams
Ten Thoughts to Ponder for 2006
Number 10
Life is sexually transmitted but not a disease!
Number 9
Good health is merely the slowest possible rate at which one can die .
Number 8
Men have two emotions: Hungry and Horny. If you see him Without an erection, make him a sandwich.
Number 7
Give a person a fish and you feed them for a day; teach a Person to use the Internet and they won't bother you for weeks.
Number 6
Some people are like a Slinky.....not really good for Anything, but you still can't help but smile when you shove them down the stairs.
Number 5
Health nuts are going to feel stupid someday, lying in hospitals dying of nothing.
Number 4
All of us could take a lesson from the weather. It pays no attention to criticism.
Number 3
Why does a slight tax increase cost you two hundred dollars And a substantial tax cut saves you thirty cents?
Number 2
In the 60s, people took acid to make the world weird. Now The world is weird and people take Prozac to make it normal.
AND THE NUMBER 1 THOUGHT FOR 2006:
We know exactly where one cow with Mad-cow-disease is located among the millions and millions of cows in America but we haven't got a clue as to where thousands of illegal immigrants and terrorists are located. Maybe we should put the Department of Agriculture in charge of immigration
The fundamental difference between left and right
One day a florist goes to a barber for a haircut. After the cut he asked about his bill and the barber replies: "I'm sorry, I cannot accept money from you; I'm doing community service this week"
The florist is pleased and leaves the shop. Next morning When the barber goes to open there is a thank you card and a dozen roses waiting for him at his door.
Later, a cop comes in for a haircut, and when he goes to Pay his bill the barber again replies: "I'm sorry, I cannot accept Money from you; I'm doing community service this week."
The cop is happy and leaves the shop. Next morning when the barber goes to open up there is a thank you card and a dozen donuts waiting for him at his door.
Later a Republican comes in for a haircut, and when he goes to pay his bill the barber again replies: "I'm sorry, I cannot accept money from you; I'm doing community service this week."
The Republican is very happy and leaves the shop. Next morning when the barber goes to open, there is a thank you card and a dozen different books such as "How to Improve Your Business" and "Becoming More Successful."
Then a Democrat comes in for a haircut, and when he goes to pay his bill the barber again replies: "I'm sorry, I cannot accept money from you; I'm doing community service this week."
The Democrat is very happy and leaves the shop. The next morning when the barber goes to open up, there are a dozen Democrats lined up waiting for a free haircut.
And that, my friends, illustrates the fundamental difference between left and right.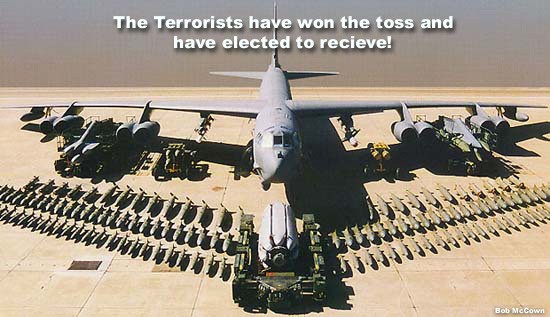 Because of them!