Named for Marine Corporal Louis James Hauge, Jr., posthumous recipient of the Nation's highest military award, the Medal of Honor. Hauge was killed in action on 14 May 1945, while serving on Okinawa as a member of the 1st Marine Division.
Corporal Hauge was born 12 December 1924, at Ada, Minnesota. He was active in all athletics, left high school after his first year and worked in a canning factory at Ada, where he became assistant foreman. He later was employed by a ship yard at Tacoma, Washington, as a painter. He was inducted into the Marine Corps on 23 April 1943.
Camp Hauge was closed in October, 1975.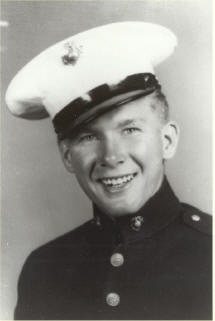 Corporal Louis James Hauge, Jr.