Camp Garcia, Vieques, named after Marine Corps Private 1st Class Fernando Garcia, a Puerto Rican Medal of Honor recipient during the Korean War, closed May 1, 2003. Camp Garcia had hosted the Atlantic Fleetís Composite Training Unit Exercises and served as the premiere training area for the Atlantic Fleet for more than 60 years.
Private First Class Fernando Luis Garcia. Private Garcia was the 38th Marine to be awarded the Medal of Honor for heroism during the Korean Conflict. Born on 14 October 1929, at Utuado, Puerto Rico, Private Garcia went to both grade and high school there. He was working as a file clerk for the Texas Company in San Juan, Puerto Rico, when he was inducted into the Marine Corps on 19 September 1951. Private Garcia was a member of Company I, 3d Battalion, 5th Marines, 1st Marine Division in Korea.
KP4AZJ came on the air in the early 1960's and provided morale and welfare messages and phone patches for permanent personnel and units passing through training.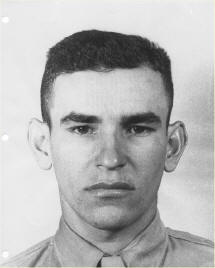 PFC Fernando Luis Garcia
KP4AZJ is no longer assigned. N0IVT is licensed to Kenneth A LaRock. 1/01/2005) Back to Top