Marine Major Henry Alexius Courtney, Jr., posthumous recipient of the Nation's highest military award, the Medal of Honor, was killed in action at Okinawa as a member of the 6th Marine Division on the night of 14-15 May 1945.
Major Courtney was born 6 January 1916, at Duluth, Minnesota. Before entering the service, he had been admitted to the bar in Minnesota and Illinois, having received his bachelor's degree from the University of Minnesota and his doctor's degree from Loyola University in Chicago, Illinois.
Located in the northern part of Tengan, Gushikawa city and facing Kin port, Camp Courtney is used mainly for living quarters and offices. Within the facility, there is a theater, post office, bank, library, and church. There are also medical facilities and recreational facilities such as a gymnasium and baseball field.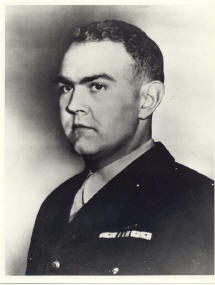 Major Henry Alexius Courtney, Jr.