On 3 October 1959, a Marine camp constructed on Okinawa was named Camp Schwab in honor of Private First Class Albert E Schwab, USMCR
Albert Earnest Schwab was just five days short of having one year in the Marine Corps on May 7, 1945 when he fearlessly walked into a blazing Japanese machine gun on Okinawa. He destroyed two guns that day and subsequently took his place on that highest pedestal the Marine Corps reserves for its Medal of Honor winners when the second gun inflicted fatal wounds as he successfully eliminated it.
Albert Schwab was born 17 July 1920 in Washington, D.C. The family moved to Tulsa, Oklahoma, early in Schwab's life, and he attended the local schools, graduating from Tulsa High School in 1937.
Camp Schwab is 15 miles north of Camp Hansen and 35 miles north of Camp Butler. In 1969 it became the home of the 4th Marine Regiment, having served various other units deploying in the far east in previous years.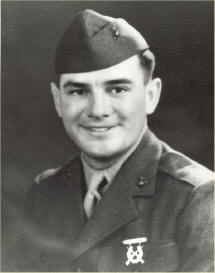 PFC Albert Earnest Schwab