On January 16, 1958 the 3rd Anti-Tank Battalion activated Camp Hansen, Okinawa. The camp is named for Medal of Honor recipient Private Dale Merlin Hansen, USMC. Hansen was awarded the Nation's highest decoration for his gallantry in action at Okinawa on 7 May 1945. He was killed by a Japanese sniper just four days later - on the first anniversary of his entrance into the Marine Corps. The action which brought him the Medal of Honor occurred in the battle for Hill 60 on the southern part of the island. He was killed on May 11th in the Wana-Dakeshi Ridge fighting.
Born 13 December 1922, at Wisner, Nebraska, Hansen attended the schools of Cuming County and he helped out on the family farm, graduating from high school at Wisner in 1940.
Camp Hansen became home to the 3rd Marine Division and during the Vietnam War was used as a transit facility for Marines beginning and ending their tours in Vietnam. Camp Hansen is 20 miles north of Camp Foster and about 15 miles south of Camp Schwab.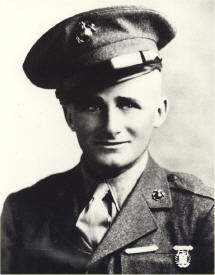 Private Dale Merlin Hansen