Marine Private First Class William A. Foster, in combat for the first time at Okinawa performed an act of heroism which won for him the nation's highest military decoration-the Medal of Honor.
William A. Foster was born in Cleveland on 17 February 1917. Following graduation from vocational high school, where he majored in machinist's subjects, Marine Foster was employed as a planner and shaper at Cleveland's Star Machine and Tool Company. A veteran of six year's service in the Ohio National Guard, the 166-pound lad, nearly six feet tall, was enlisted in the Marine Corps Reserve through Selective Service on 1 April 1944.
The camp is in the central part of the main island and houses Marine Corps Base Headquarters.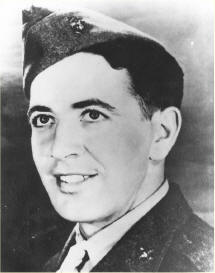 PFC William Adelbert Foster